Black Cactus Charcoal Gel Face Cleanser
Regular price

Sale price

$34.00
Banish blemishes and detox skin with activated charcoal, willow bark, melaleuca honey and turmeric root.
A non-foaming, gentle oil-to-milk gel facial cleanser and makeup remover formulated with a powerful synergy of botanicals to gently detox, absorb excess oil and pore clogging pollutants.
Powered with activated charcoal, turmeric, prickly pear, melaleuca honey, papaya, willow bark and licorice root to clarify skin and speed up skin cell turnover. Once activated with water the gel texture transforms into a milky water that rinses away effortlessly.
We've left the gel cleanser unscented, however, its constituents give it a subtly sweet honey scent with fruit undertones.
Skin Types:
All skin types (with exception to very dry skin types), with an affinity to oily, combination and break-out prone skin - use as a daily facial cleanser

Dry or normal skin types could benefit from using once a week for a facial detox.

Not suitable for very dry skin types.
Key Benefits & Skin Concerns:
Cleanses, exfoliates & clarifies  
Targets enlarged pores caused by acne & congested pores
Detoxes, nourishes and replenishes the moisture barrier
Moisturizes leaving skin hydrated & silky smooth
Pro Tips:
For added cleansing, skin brightening and exfoliation benefits, layer under our Vitamin C Cleansing Grains. 
Try our Passion Fruit Cleansing Melt for a more soothing cleanse.
Notes:
The ingredients in our products are naturally sourced and blended in small quantities which may result in some slight variations in color and aroma from time to time. This is one of mother nature's subtleties which we wholeheartedly embrace. Enjoy your 100% natural plant-based cleanser!
Information that may interest you:
Oil Cleansing for Glowing Skin
Licorice Extracts as Active Cosmeceutical Ingredients:
Honey: A Therapeutic Agent for Disorders of the Skin - PMC
Free Domestic Shipping
Ingredients

*Kalahari Melon Seed Oil, **Vegetable Glycerin, **Sweet Almond Oil, **Sucrose Laurate, Aqua, **Guava Seed Oil, *Raw Melaleuca Honey, **Licorice Root Extract, **Prickly Pear Fruit Extract, **Lactobacillus/Papaya Fruit Ferment Extract & Papaya Seed Oil, **Sunflower Seed Oil, **Willow Bark Extract, **Turmeric Root Extract, **Radish Root Ferment, **Coconut Fruit Extract, **Activated Charcoal Powder.

*Organic ingredient/**Wildcrafted
Key Ingredients & Why They Work

♦ Kalahari Melon Seed Oil: A prized oil from Africa also known as watermelon melon seed oil. An ultra-fine, oil that is abundant in vitamins A, B and E, antioxidants and Omega 3, 6 and 9 fatty acids and a host of minerals including magnesium, iron, copper, and potassium. This oil is perfect for all skin types but can be a miracle worker for sensitive, acne-prone skin.

♦ Papaya Fruit Extract: A natural, gentle, but powerful exfoliating enzyme that effectively dissolves sebum, unclogs pores and sloughs off dead skin cells. Abundant in vitamins A, C and E, essential fatty acids, antibacterial and anti-inflammatory properties that helps to lighten dark spots, blemishes and acne and increase cellular renewal.

♦ White Willow Bark Extract: Abundant in salicylic acid, nature's botanical form of beta hydroxy acid (BHA). An all-natural, gentle exfoliant that cleans pores from the inside, removes toxins and helps to slough off dead skin cells, making way for fresh, smooth and radiant skin without irritation or sensitivity.

♦ Florida Melaleuca Honey: A relative of the Manuka Tree, Melaleuca has antibacterial and anti-inflammatory properties that actively defend against skin breakouts. It's also rich in antioxidants and flavonoids and moisturizes skin keeping it healthy, supple and hydrated. The enzymes present in honey promote healthy skin cell production and provide a natural glow to the skin.

♦ Prickly Pear Cactus: Exceptionally high in vitamins A & K and essential fatty acids, prickly pear helps to smooth and refine the skin's texture, retain moisture, restore elasticity and brighten hyper-pigmentation. It's also high in phytosterols, especially beta-sitosterol, which provides antioxidants, antibacterial and anti-inflammatory properties. The combination of phytosterols and natural essential fatty acids works well for anti-aging concerns and encourages new collagen production.
How To use

Massage a few pumps of cleanser onto dry skin. Rinse with warm water.

For added cleansing and exfoliation benefit, layer with Vitamin C Cleansing Grains.

Follow with our Blue Lavender Tranquility Mist for added hydration and our Azul Clarifying Face Oil to seal in moisture.
Compare
Product Care Guide

To maximize shelf life, store product in a cool, dry environment away from sunlight.
Share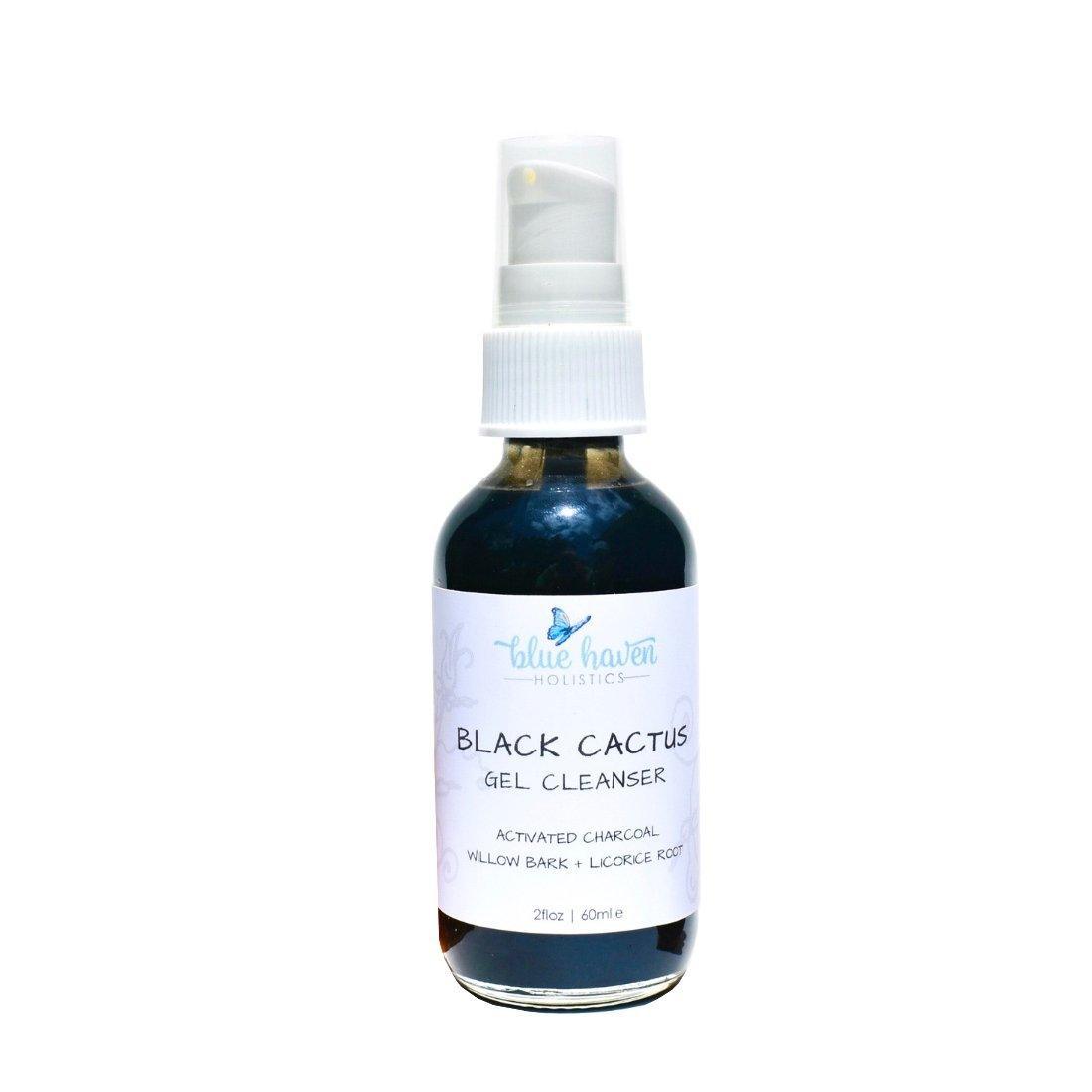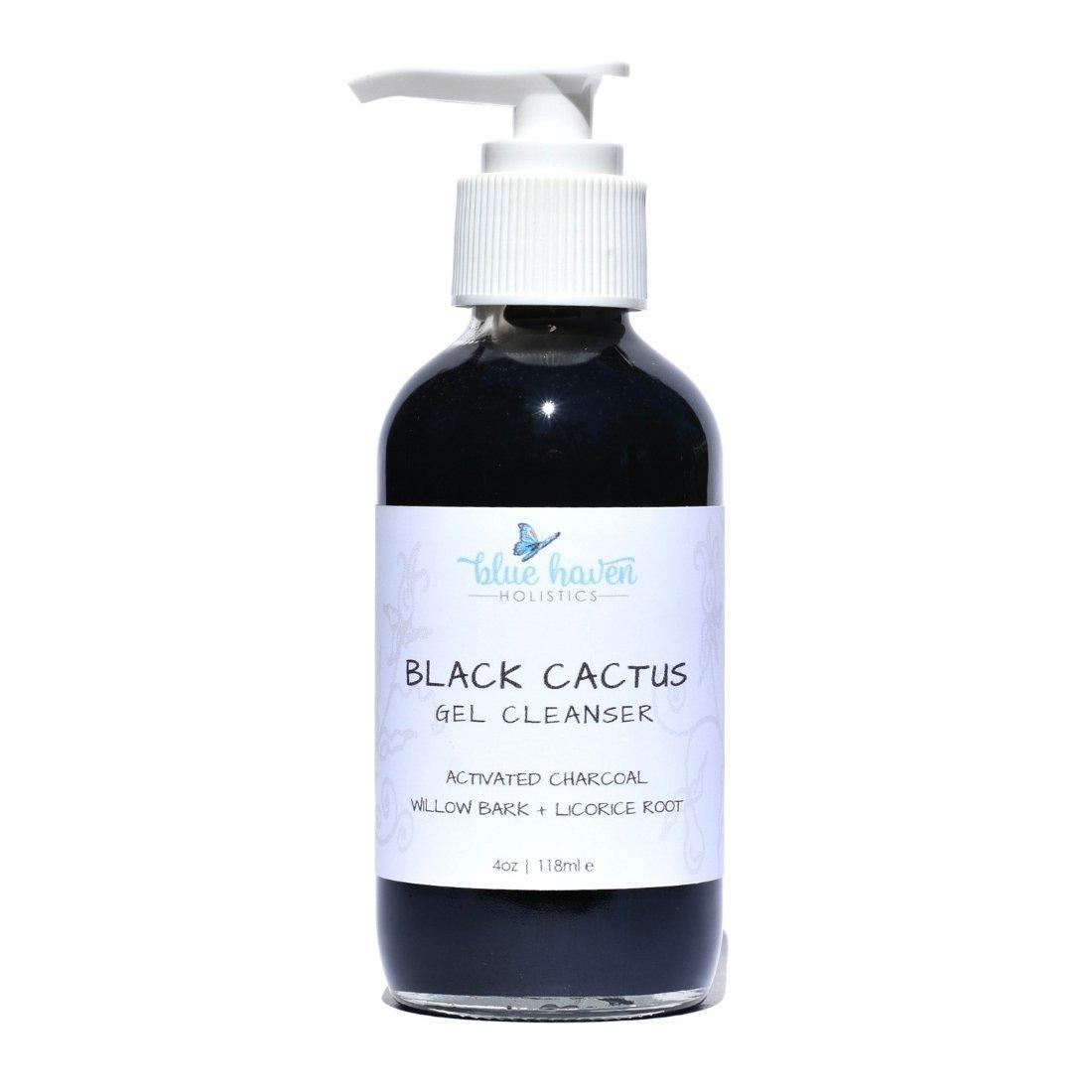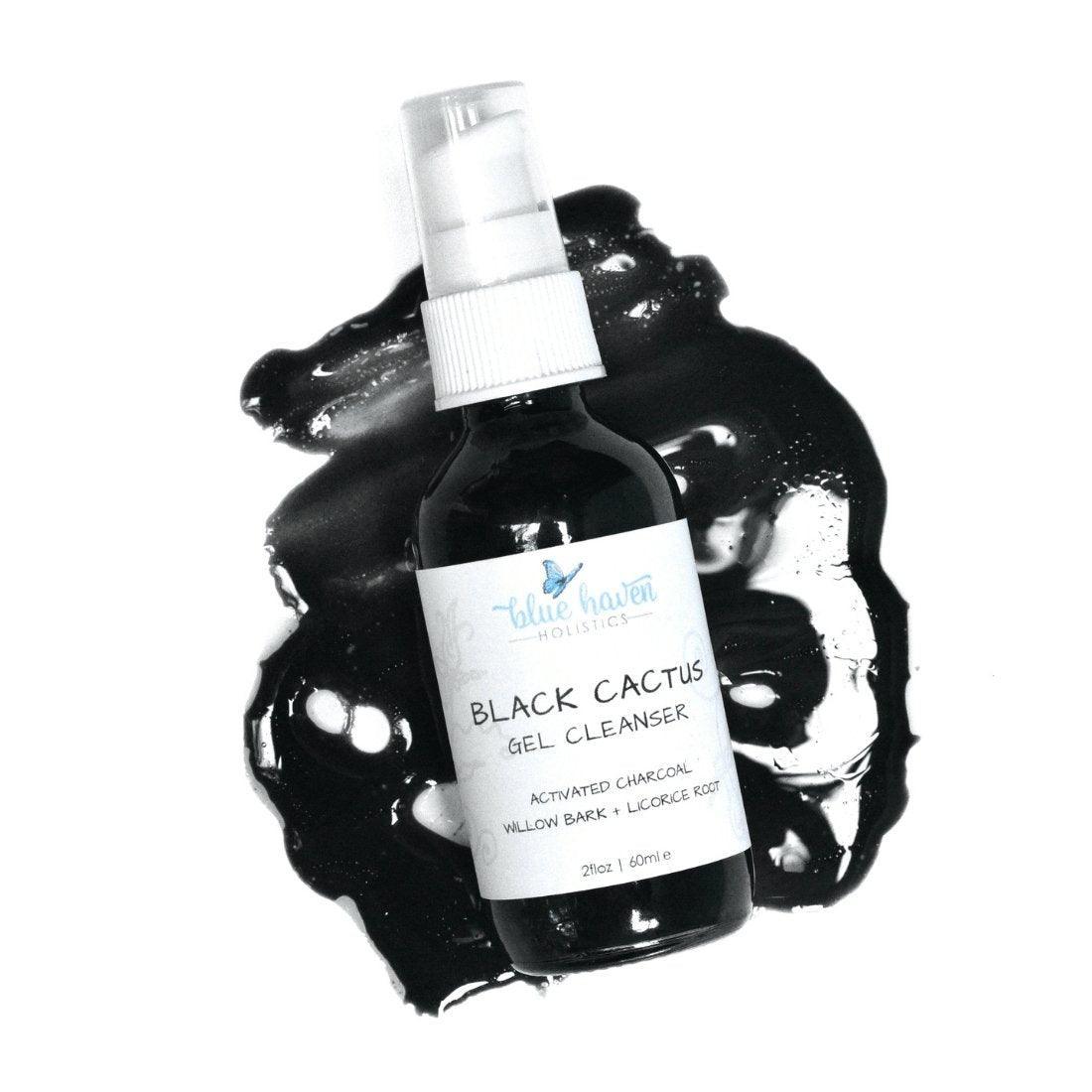 Why You'll Love the Black Cactus Gel Cleanser
Detox, cleanse & clarify
gentle detox cleanser & makeup remover
absorbs excess oil and pore clogging pollutants
helps clear existing blemishes and prevent future breakouts
moisturizes and hydrates skin