Blue Tansy Hydrating Face Mist
Regular price

Sale price

$28.00
A tranquil, hydrating mist formulated with anti-inflammatory, anti-bacterial and vitamin rich botanicals to hydrate the skin. Blue tansy, lavender, chamomile and prickly pear work synergistically to support skin's retention of moisture and create a smooth, supple and clear complexion. 
The multi-tasking Blue Lavender Tranquility Mist does double duty. It works perfectly to just hydrate skin with its skin enriching botanicals or to soothe and calm the most stressed, blemished skin.

This wonderful face mist is just as soothing for the senses as it is for the skin! Use throughout the day to instantly feel calm, hydrated and refreshed.
Key Benefits & Skin Concerns:
Helps soothe acne and skin irritations 

Helps to clear congested pores
Maintains skin's pH balance
Calms and soothes redness and inflammation
Increases hydration and restores natural moisture barrier
Provides astringent and antibacterial properties  
Skin Types:
All skin types, but especially beneficial for oily, combination, blemish prone or stressed skin or skin conditions. 
Pro Tips:
Notes:
The ingredients in our products are naturally sourced and blended in small quantities which may result in some slight variations in color and aroma from time to time. This is one of mother nature's subtleties which we wholeheartedly embrace. Enjoy your 100% natural plant-based face mist!
Information that may interest you:
Oil & Water: The Secret to Healthy Glowing Skin
Anti-Inflammatory, Antioxidant, Antibiotic, and Cytotoxic Activities of Blue Tansy Oil
The silver lining: towards the responsible and limited usage of silver
Unveiling the Ability of Witch Hazel Bark to Impair Keratinocyte Inflammatory Cascade Typical of Atopic Eczema
Deep skin wound healing potential of lavender
Free Domestic Shipping
Ingredients

*Lavender Distillate, *Witch Hazel Distillate, **Silver Distillate, **Vegetable Glycerin, **Chamomile Extract, **Prickly Pear Extract, **Radish Root Ferment, **Butterfly Pea Flower, *Blue Tansy Flower Oil.

*Organic ingredient/**Wildcrafted
Key Ingredients & Why They Work

♦ Blue Tansy Oil: Also known as Moroccan Chamomile, Blue Tansy is high in azulene, which gives it its striking deep blue color. Perfect for sensitive skin, healing damaged skin, and preventing breakouts. Blue tansy is incredibly soothing, helping to minimize inflammation and regenerate skin at a cellular level. It helps to tame redness, sooth sensitive skin and calm skin conditions such as psoriasis and eczema. Used therapeutically, blue tansy is deeply relaxing and helps to boost the mood.

♦ Lavender Hydrosol: versatile in nature, lavender's powerful anti-inflammatory, antioxidant, antimicrobial and calming properties help to soothe irritated or inflamed skin. It's also a moisturizer and improves circulation by adding oxygen to the skin cells. Beneficial for all skin types, lavender is useful in the treatment of acne and can balance oily or dry skin.

♦ Chamomile Extract: used throughout history as an herbal treatment for various skin conditions, it functions as an antimicrobial, antiallergic, anti-inflammatory, antioxidant, and analgesic. These properties help to decongest clogged pores and soothe and calm irritated or inflamed skin. It also includes the flavonoids apigenin, luteolin, and quercetin, as well as alpha-bisabolol and matricin oils, making it effective in protecting the skin against free radicals that cause aging.

♦ Prickly Pear Extract: exceptionally high in vitamins A & K and essential fatty acids, prickly pear helps to smooth and refine the skin's texture, retain moisture, restore elasticity and brighten hyper-pigmentation. It's also high in phytosterols, especially beta-sitosterol, which provides antioxidants, antibacterial and anti-inflammatory properties. The combination of phytosterols and natural essential fatty acids works well for anti-aging concerns and encourages new collagen production.

♦ Silver Hydrosol: has been used as a healing and anti-bacterial agent for thousands of years by civilizations throughout the world. Its medicinal, preservative and restorative powers can be traced back to the Ancient Greek and Roman empires. In topical skin applications, silver stimulates healing of soft tissue and is beneficial for many skin issues such as scrapes, burns eczema, psoriasis and dermatitis.
How To use

2 x DAILY - ☀️ AM and 🌜PM

Gently shake bottle, hold it half an arm's length from your face, close your eyes and mist 2-3 pumps all over your face.

Use after cleansing and before applying moisturizer to seal in hydration and enhance nutrient absorption.

May be stored in fridge for a cooling burst of moisture.
Product Care Guide

To maximize shelf life, store product in a cool, dry environment away from sunlight.
Share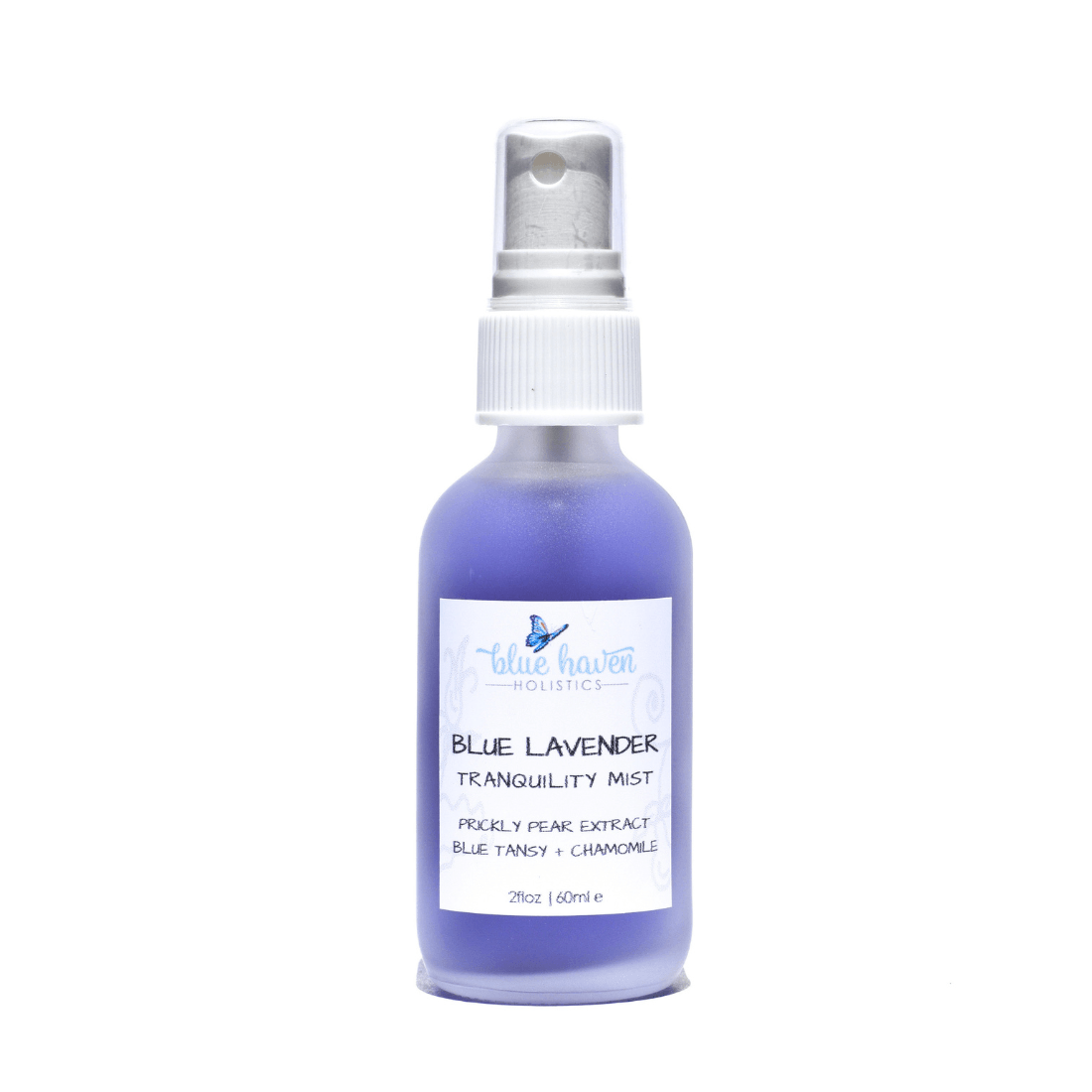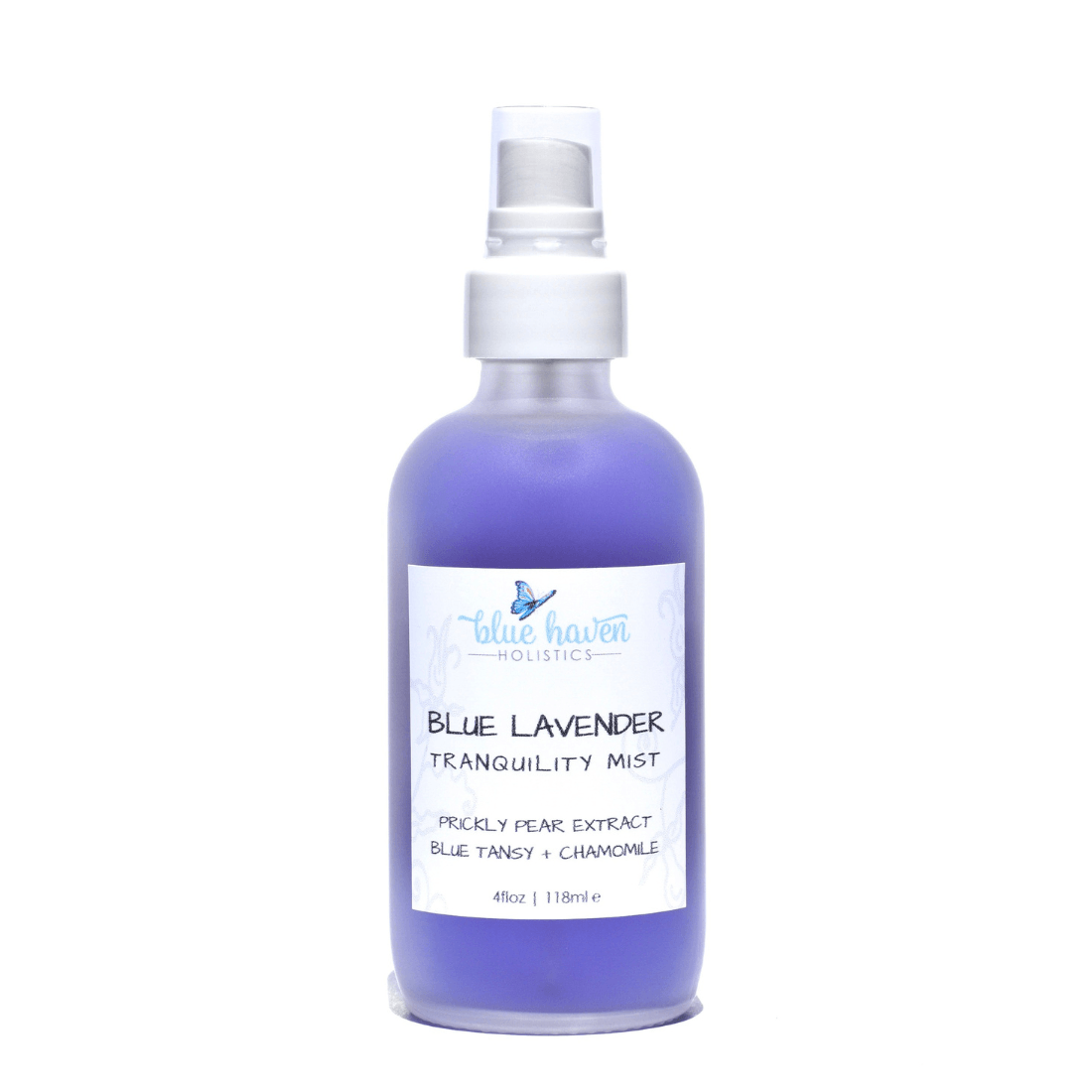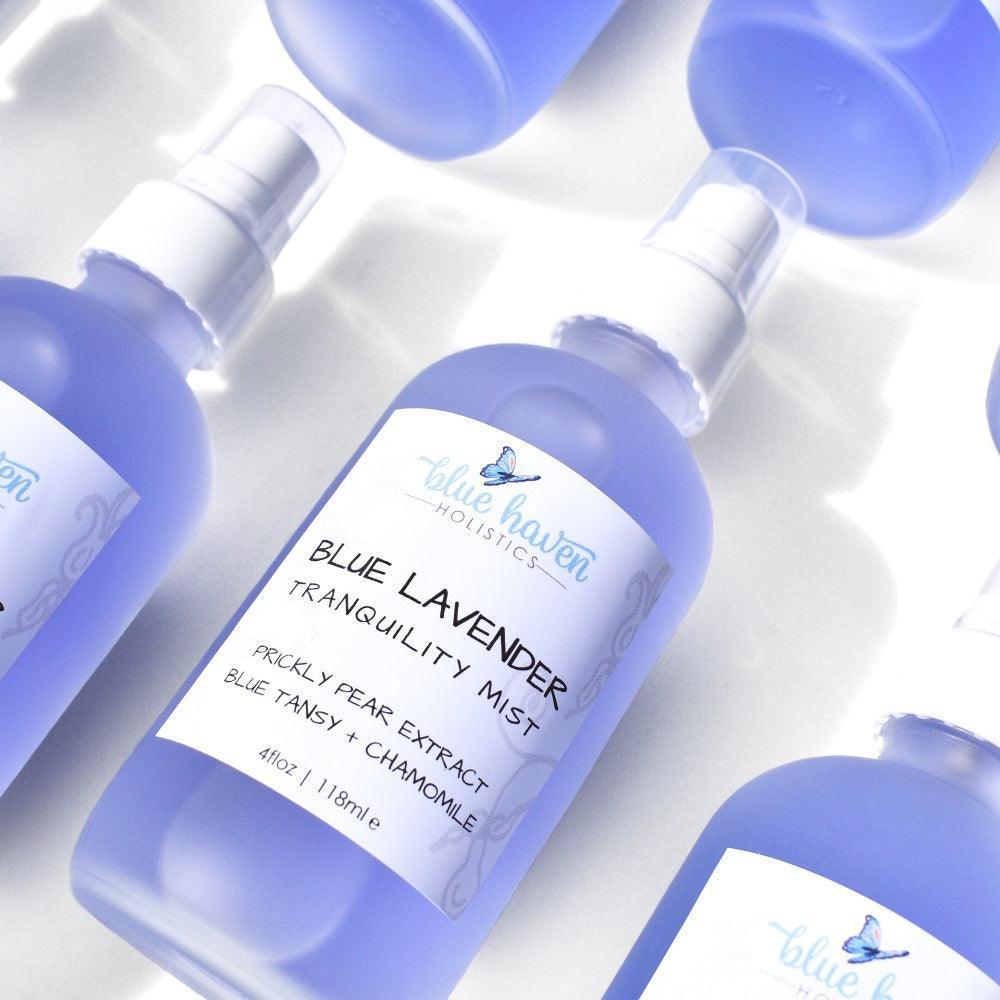 Why You'll Love the Blue Lavender Tranquility Mist
Hydrate, soothe & calm
helps maintains the skin's pH balance and control excess oil while rejuvenating the skin.
quenches skin with rich antioxidants and vitamins
blue tansy and chamomile help to tame redness, soothe sensitive skin and calm skin conditions such as psoriasis and eczema.
protects against free radicals that damage healthy skin cells. 
alcohol-free witch hazel and silver hydrosol provide astringent and anti-bacterial properties to help shrink the appearance of pores without leaving your skin feeling tight and parched.
phytosterols and natural essential fatty acids works well for anti-aging concerns and encourages new collagen production.