Passion Fruit Natural Oil Cleansing Balm
Regular price

Sale price

$40.00
Cleansing Balm 3-in-1: Makeup Remover, Cleanser, & Moisturizer
A luxuriously rich and gentle gel-to-milk cleanser that creates a sensorial and tranquil experience. Our cleansing balm sinks into skin, cleansing, dissolving makeup, and removing daily impurities leaving skin nourished and dewy soft. 
Formulated with a blend of pure botanical oils rich in antioxidants, vitamins, active enzymes, essential fatty acids and anti-inflammatory properties. This creates a gentle yet effective concentrated cleanser that maintains the moisture barrier without clogging pores. Easily removes with just water. No cloth required.
When activated with water, this ultra-potent gel transforms into a silky milk emulsifying cleanser.
Skin Types:
All skin types, especially dry, mature and sensitive skin types. Perfect to be used as a primary cleanser as well as a makeup remover. 
Key Benefits & Skin Concerns:
Daily cleanser that melts away stubborn makeup  
Removes impurities, dirt & SPF
Nourishes and replenishes the moisture barrier
Gently exfoliates & clears congested pores
Moisturizes leaving skin hydrated & silky smooth
Pro Tip:
Notes:
Please note that we've recently updated our cleansing melt formula. You'll experience a more gel-like formula that rinses off with less effort, leaving skin soft and nourished. The delicious subtle scent of vanilla and orange remains the same. 
The ingredients in our products are naturally sourced and blended in small quantities which may result in some slight variations in color and aroma from time to time. This is one of mother nature's subtleties which we wholeheartedly embrace. Enjoy your 100% natural plant-based cleanser!
Information that may interest you:
Oil Cleansing for Glowing Skin
Free Domestic Shipping
Ingredients

*Passion Fruit Oil, *Jojoba Oil, **Vegetable Glycerin, **Sweet Almond Oil, **Sucrose Laurate, **Papaya Fruit Extract, *Castor Bean Oil, *White Willow Bark Extract, *Neroli Flower Distillate, *Sea Buckthorn Fruit Oil, *Neroli Flower Oil, **Sucrose Stearate, **Sucrose Palmitate **Orange Peel Oil, **Lemon Peel Oil, **Grapefruit Oil, **Mandarin Oil, **Bergamot Oil, **Tangerine Oil, **Clementine Oil, **Vanilla Fruit Extract, **Gromwell Root Extract, **Vitamin E.

*Organic ingredient/**Wildcrafted

Key Ingredients & Why They Work

♦ Passion Fruit Oil (Maracuja): An exotic oil rich in vitamins A & C and essential fatty acids, passion fruit helps to keep skin moisturized and is ideal for soothing dry, flaky skin and also acne prone skin. It's also high in antioxidants like lycopene, and carotenoids to battle the effects of sun damage, pollution, and other environmental stressors. Lycopene works synergistically with vitamin C to promote even skin tone and encourage new collagen production.

♦ Papaya Fruit Extract: A natural, gentle, but powerful exfoliating enzyme that effectively dissolves sebum, unclogs pores and sloughs off dead skin cells. Abundant in vitamins A, C and E, essential fatty acids, antibacterial and anti-inflammatory properties that helps to lighten dark spots, blemishes and acne and increase cellular renewal.

♦ White Willow Bark Extract: Abundant in salicylic acid, nature's botanical form of beta hydroxy acid (BHA). An all-natural, gentle exfoliant that cleans pores from the inside, removes toxins and helps to slough off dead skin cells, making way for fresh, smooth and radiant skin without irritation or sensitivity.

♦ Sea Buckthorn Fruit Oil: A rich source of natural beta carotene and is abundant in vitamins A, C, D, B, E & K and Omega's 3, 6, 9 and the rare 7 which can keep skin looking firm and lifted. It's also one of the richest sources of natural vitamin C helping to promote skin hydration, elasticity, fade age spots and help with skin regeneration.

How To use

ONCE DAILY - ☀️ AM or 🌜PM

Use as first step in your skincare routine.

Using the spatula provided, scoop an olive-sized amount of cleanser out of the jar. Add more or less, as needed.

Gently massage into dry skin in upward circular motions. Slowly add warm water and continue massaging until the product becomes silky milk. Pay special attention to areas with makeup, dirt, or impurities.

Rinse with warm water.



Product Care Guide

Keep contents of jar dry and free of moisture, water, or contaminants. Store product away from light and heat in order to best preserve the ingredients.

The ingredients in our products are naturally sourced and blended in small quantities which may result in some slight variations in color and aroma from time to time. This is one of mother nature's subtleties which we wholeheartedly embrace. Enjoy your 100% natural plant-based cleansing balm!
Share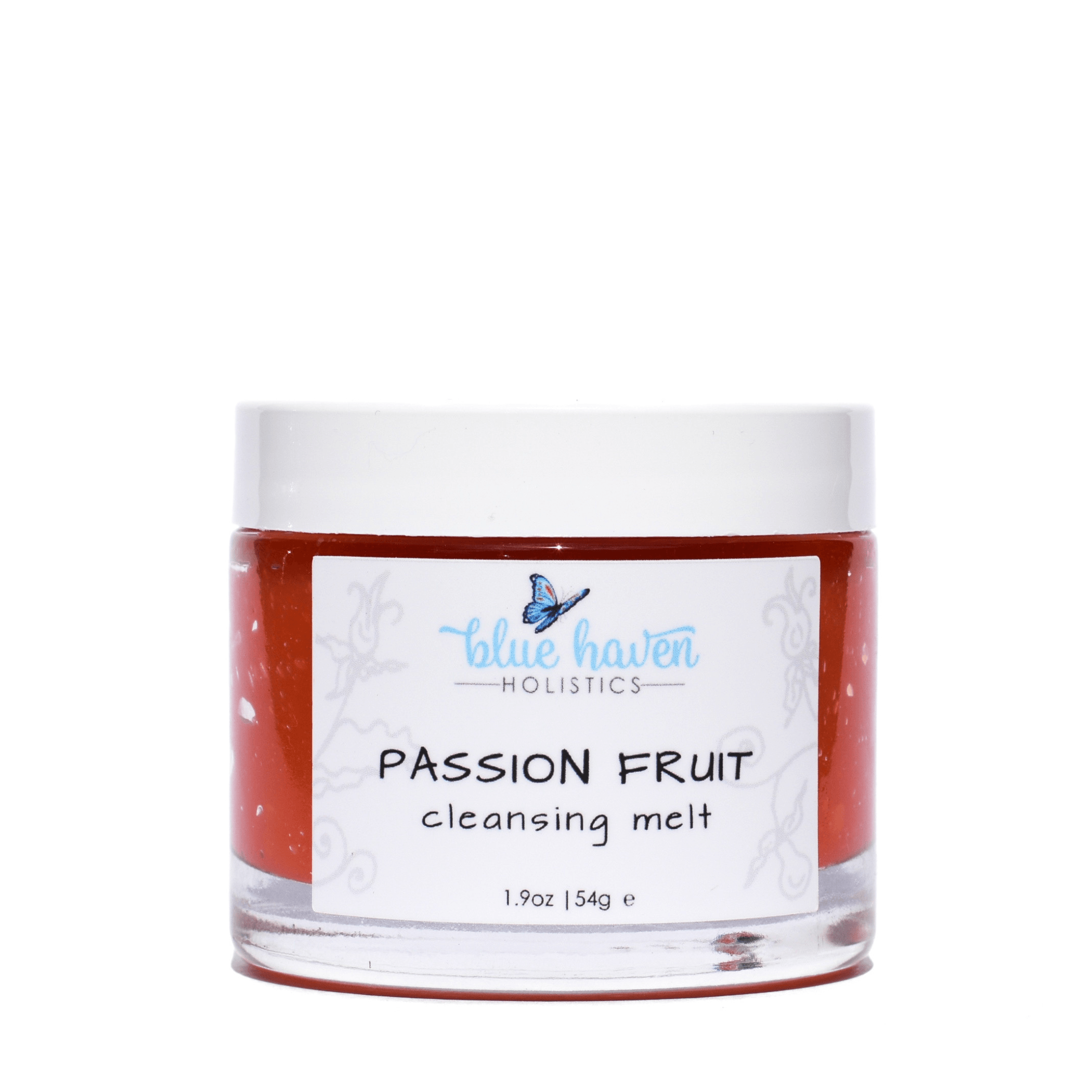 Why You'll Love the Passion Fruit Cleansing Melt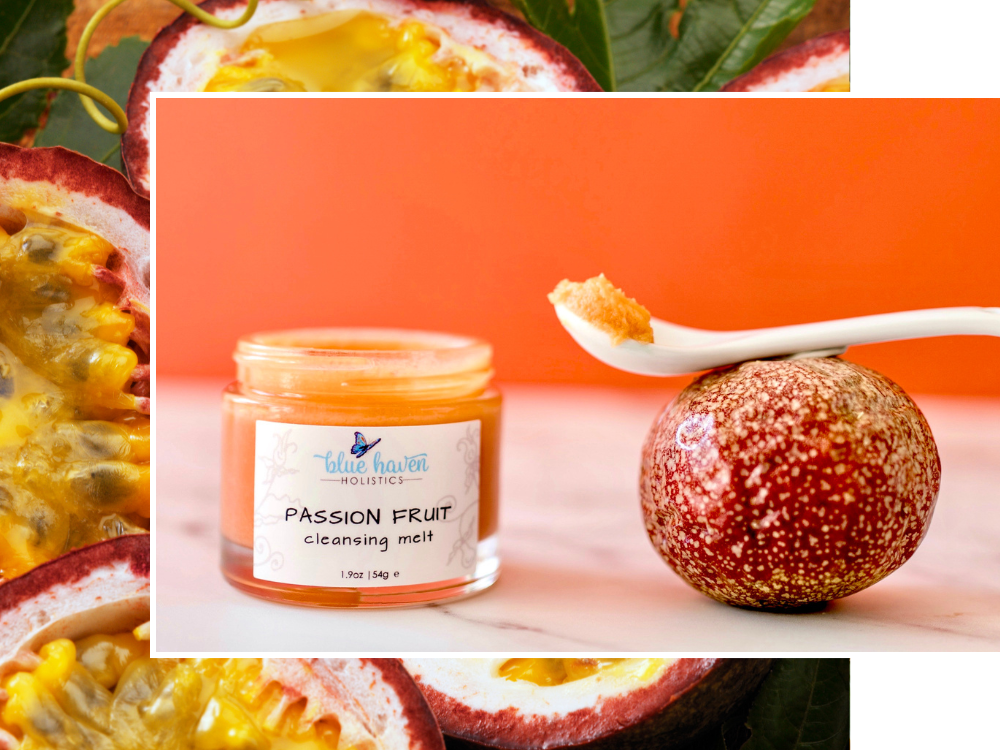 Cleanse, nourish & moisturize
effectively removes makeup, sunscreen, dirt, and impurities while maintaining the natural moisture barrier
softens, moisturises and nourishes skin
gently exfoliates while leaving skin hydrated and smooth
emulsifies with water & easily rinses away, no cloth required
Product FAQ's
I just received my Passionfruit Cleansing Melt in the mail and it looks soft. Has it gone bad?

It is normal for your Passion Fruit Cleanser to soften if exposed to high temperatures. This in no way affects the efficacy.

Simply stir contents of jar with a clean spoon and place the sealed jar in the fridge for 1-2 hours. Allow to return to room temperature.
Why doesn't my skin feel squeaky clean after using the Passionfruit Cleanser?

Healthy skin should feel soft and plump after cleansing. Our face cleansers are formulated to cleanse the skin without damaging the acid mantle that protects your skin. A squeaky clean and tight feeling after cleansing means that the natural oils have been stripped from your skin. This can cause an imbalance and create sensitization in your skin.
Does the Passionfruit Cleansing Melt remove make-up?

The Passion Fruit Cleansing Melt is a luxurious 3-in-1 makeup remover, face cleanser and light moisturizer.

Non-foaming and waterless to keep the moisture barrier in tact without clogging pores, leaving skin fresh and happy. Cloth optional, but not required.
What does the Passionfruit Cleansing Melt smell like?

The primary scent of the Passionfruit Cleansing Melt is citrus with notes of vanilla cream.